The Prayer to Love
One fascinating aspect of magickal work is the way in which prayers and invocations build power each and every single time they are uttered. Consider the Lord's Prayer – how many of us do not know at least a little of that? It is a call to our God(s) to watch over and protect us, guiding us safely through the turbulence and uncertainty that can be life. This prayer has been spoken innumerable times across centuries – and I defy anybody – regardless of their chosen path, to deny its power to bring healing and tranquillity in those who speak it.
One day we truly hope that the Prayer to Love will hold that same status in our hearts – so that its words invoke within us a deep and whole-hearted appreciation of the power of love. It was written for this Celebration back in 1994 by our very good friend Saul. And in the intervening years many people have given voice to its words. Please become one of us.
It has a cadence and rhythm that carries it forward toward a gentle and glorious climax. The sentiments it expresses are universal – we all identify with the warmth of the love we each feel and need, in one situation or another.
There's a beautiful graphic version here, as well as a straight text version. Take your pick of which you will print and study… but please, please do study and consider :-)
This is what the illustrated version of the Prayer looks like. It downloads here at A4 size. If you print it on art or photo paper it makes a perfect picture to frame.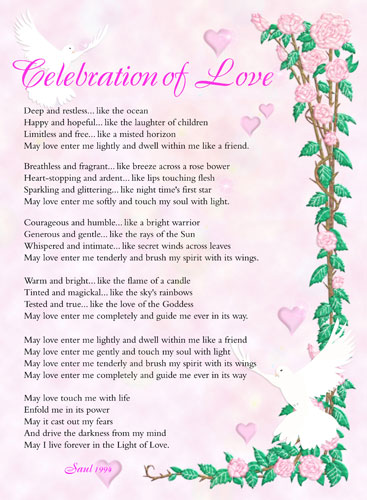 The Prayer to Love
Deep and restless... like the ocean
Happy and hopeful... like the laughter of children
Limitless and free.... like a misted horizon
May Love enter us lightly and dwell within us like a friend
Breathless and fragrant... like breeze across a rose bower
Heart-stopping and ardent.... like lips touching flesh
Sparkling and glittering... like night-time's first star
May Love enter us softly and touch our souls with Light
Courageous and humble... like a bright warrior
Generous and gentle... like the rays of the Sun
Whispered and intimate... like secret winds across leaves
May love enter us tenderly and brush our spirits with its wings
Warm and bright... like the flame of a candle
Tinted and magickal.... like the sky's rainbows
Tested and true... like the Light in Life
May Love enter us completely and guide us ever in its way
May Love enter us lightly and dwell within us like a friend
May Love enter us softly and touch our souls with Light
May Love enter us tenderly and brush our spirits with its wings
May Love enter us completely and guide us ever in its way
May Love touch me with light
Enfold me in its power
May it cast out my fears
And drive the darkness from my mind
May I love forever in the light of love
- Saul [Copyright 1994-to date]