About Angel Paths
Angel Paths is a combined work of love, miracles and laughter. It was only possible because of Jan Shepherd, who wrote all the Tarot material on the website.

Jan studied and read Tarot for most of her adult life. In the late 1980s she progressed from readings to writing and presenting Tarot study courses.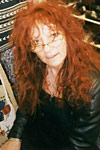 From there, she decided to put this work online and on 1st May 1997 - Beltane - the Angel Paths website was set up to sell these Tarot courses, and swiftly grew to include a section on healing, discussion forums on Tarot and spirituality, information areas on protection and spiritual growth, Questions and Answers, the Celebration of Love area, The Big Shop and of course the the Card of the Day.
Over the years, the site has grown and evolved. The forums have gone, replaced by an active and vibrant Facebook community. The Card of the Day and Big Shop are still going strong. Since Jan passed away in June 2019, Graham and Ellie Miller have taken over Angel Paths. They knew Jan for nearly thirty years, starting when they were among the first people to attend her Tarot classes.
Jan wrote three e-books that are available on the Angel Paths Shop, along with Tarot readings by Graham and Ellie, and a wide range of Tarot decks are available on our eBay page. There are new sections, including a series on The Wheel of the Year, the Celebration of Love and more.

As with all great things, Angel Paths is the result of a dedicated team who work behind the scenes to keep things moving. This new site design was by Warp Design, Mandy Folwell handles all the graphical design, Ellie Miller and Graham Miller keep things organised (and Graham writes some of the Wheel of the Year sections). Please do come and take part, find us on Facebook, sign up for the Card of the Day eZine, and browse through our site.
Copyright
All written material on the Angel Paths website is copyright of Angel Paths, and may not be reproduced in any manner without the express permission of the site owners (Graham and Ellie Miller). All Thoth Tarot card images displayed are copyright of US Games Inc.