What you need to know about the
Celebration of Love 2021
This year, the Celebration of Love will be on 24th April 2021!
The Celebration of Love is always booked on a "rising" Moon – that is between New and Full Moon. The date of the next Celebration of love will be decided in early February 2021, but will be one of the Saturdays in April. People celebrating this day are based all over the world, and we say to all of them: "The Celebration begins in the morning when you get up, and lasts right the way through till the end of the night." This helps to avoid complications caused by time zone differences, and gives us all several hours to plan our days. Remember, the important thing here is that you celebrate with all your heart. It does not matter whether you choose to work a "formal" ritual, or whether you want to celebrate by enjoying the glory of Nature, or the blessings of close family, or by pampering yourself all day. It is the fact that you do anything you do in the name of Love that will add your energies and good wishes to those of every other participant.
Sadly, it is likely that there will be some form of lockdown due to Covid-19, so celebration should take place with your safety, and that of your loved ones, in mind. Zoom is just one of the many ways in which we can virtually be together for at least some of the day, and perhaps share visuals of what our altars and decorations look like.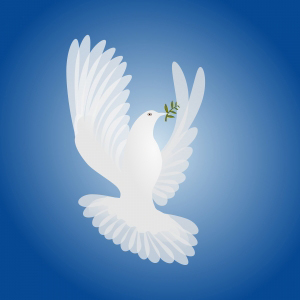 Previous Celebrations have been enjoyed by several formal groups of people, many family units, couples, friends and individuals who all placed love at the heart of their day.
When it comes to preparing decorations for your house, getting candles ready to burn on the day, preparing your own loose incense and so on, these activities will generally carry greater weight if performed after the Moon has gone New. As for collecting together or buying the things you might need – rose scented incense sticks, general crafts materials, bath oil ingredients and so on – this can be done in advance of the New Moon. Many of us read the Prayer either out loud or to ourselves, every day from the New Moon.
We will be adding some ideas for things you might like to do to get ready over the intervening months. You can "like" the Angel Paths Facebook page to get regular updates, or check back here often.
Have a really happy and fulfilling day!