From Jan:
I follow a strong tradition of magickal practice. A central theme here is a series of annual Wheel of the Year celebrations which have much in common with the Festivals of the Wheel of the Year. These are important high points, shifts and trends marked by Nature's cycles. The Solstices and Equinoxes have become part of our everyday life, mentioned in all sorts of contexts. The tradition I follow has rigorous demands and I've generally been able to meet these.
But the path I walk is not for everybody – or even for most people. Some of us have less time to acknowledge the cycles of this planet who so willingly offers herself to us as a home and a haven. Some choose to work out their own methods of noting the passage of seasons and "meeting" the high points of the year. But for all of us these 8 days are important for they draw us closer to Gaia, and to the round of life.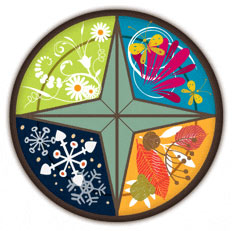 This section of the site explores ideas for celebrating these festivals. I got together with my good friend Graham and agreed to gather ideas from myth, tradition, and lore which hopefully give you a "feel" for these High Days...and maybe tempt you into developing a way of noting them for yourself. This will build up over the year until all eight festivals are listed here. And now I'd like Graham to tell you about himself.
Jan Shepherd - January 2015.
Graham:
If I'm asked what my beliefs are, I answer "Eclectic Hedge Witch". This means that I pick and choose from a variety of paths (eclectic), I don't belong to any coven or specific pagan tradition (hedge) but I am a pagan (witch). I found this path in my teens when I became interested in all things New Age, particularly stone circles. Since then, I have been fascinated by the simple question – why were they built? One answer to that leads to the wheel of the year. Scattered across the landscape, preserved in stone for over 5,000 years are the remains of a solar calendar. Together with folk customs, and other festivals, this gives rise to the eight celebration days of the Wheel of the Year. So, whenever I think about my pagan beliefs, part of me is always looking back to Neolithic times trying to establish how they would have celebrated, what they would have eaten and how they would have viewed the shifting seasons.
2nd February - The Quickening
Between 20th and 23rd March - The Spring
1st May - A Festival of Fire
20th-23rd June - High Day of Light
31st July -2nd August - First Harvest Blessing
20th-23rd September - Harvest Home
31st October - End of Summer
21st-23rd December - Midwinter