Working with The Empress
The Empress is the embodiment of womanhood. She covers all aspects of love, beauty and female strength. Her throne is one built of endurance, tenacity, loyalty and sheer determination. She stands for the mother, and for the daughter... who will in turn become mother.
And at her highest level, the Empress also represents the Great Mother in her aspect of protector, nurturer, teacher, lover, and friend. Here are all the elements of compassion, unconditional love and acceptance that comes from a pure and unadulterated relationship with the Goddess.
In recent times we have tended to overlook the importance of the innate strength in womanhood. We can get blinded by the dynamic power inherent in male strength, and completely forget the necessity for the counter-balancing influence of female power.
There's nothing mushy about this power - it's no accident that many Goddesses are regarded as destroyers - but it is infinitely different to male strength. The entire dynamic of its expression is unique and enduring.
On a day ruled by the Empress, we need to be trying to touch the Goddess - either within or without. You'll see Her gentle beauty in a thousand places if you look for it.
We also need to be considering love, and the ways in which we express love and receive love in our lives. It's a good exercise to try out every now and again, anyhow. When we run a quick check on the level of love in our lives as a regular thing, we find it much harder to make the mistake of taking it for granted.
On a more mundane level, this is a time to think of mothers - you, if you are one; your mother; the concept of motherhood. And finally, again we need to take that back to whatever we regard as the highest principle of mothering in our lives.
And by the way - just because I have talked a lot about women, and mothers, I am not excluding men. You have many of these same qualities within your nature too. So get in touch with them!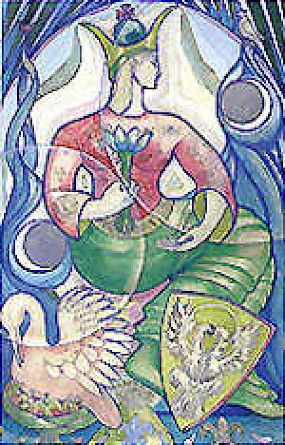 Affirmation: "Love and beauty flow through my life in a limitless stream."