Working with The Emperor
Just as the Empress embodies the female power and force, the Emperor encapsulates the male dynamic force in life. Here we find action, decisiveness and high energy.
There are also many connections with fatherhood and kingship for the Emperor. This is a card that indicates responsibility, a sense of commitment, protection and strong leadership.
On a day ruled by the Emperor, we need to engage all our energies in order to take dynamic steps forward in life. This is a day which offers us terrific opportunities to forge ahead in important areas.
Spiritually, we can often make big realisations, and receive clear divine guidance which resolves difficult or troublesome issues. So if your spirit is troubled by ethical issues, use this day to offer up these problems to the high powers, and await omens or directive.
Remember also, that on a day ruled by the Emperor, there's a special type of strength in the air. So, if you are feeling vulnerable or frail, reach out for the power of the Emperor's influence, and be renewed!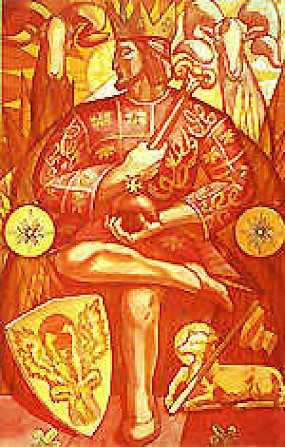 Affirmation: "I trust and depend upon my own power."