Working with The Queen of Disks
A day ruled by the Queen of Disks is one where we need to turn our attention to the practical roots of our security and sense of domestic contentment. This Queen provides us with a stable foundation from which to move forth into the often turbulent forces of life.
When we feel safe, and at peace; when we know our home for a haven; when we have a place to rest and regenerate, we function much better as human beings. We are more tolerant, less fearful, more compassionate, less grasping.
So on one of these days, we must make a point of doing something to love ourselves in our home environment, and also something to make that environment more welcoming, more attuned to our own sense of peacefulness.
We can do this in many different ways. For ourselves, we can take half an hour or an hour out to do the things which make us feel at peace. We could do some work in the garden, or take a long relaxing bath, or cook ourselves something special to eat, or listen to music with a whole head, or whatever else makes us feel gentle and timeless and happy.
For our homes, we can buy something that makes things more comfortable, or we can re-arrange something so it's more pleasing, or we can clean out that cupboard that has been gathering cobwebs for ages.
The key here is to spend time and energy both on yourself, and your home - and to do both of these things with the intent to harmonise more thoroughly, to feel more rested and centred, to make more of a haven than we already have.
Remember - our intentions, when coupled with actions, have a powerful influence on our environment. They create new streams of energy which will manifest. And since the Queen of Disks is about the home and family, and about our view of ourselves in that environment, on her day we must nourish those things in order to put them in their rightful place in life.
In creating a happy environment on the physical level, we become empowered to create a happy environment within ourselves, too. And that's a very nourishing experience.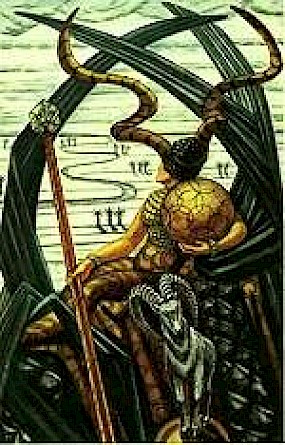 Affirmation: "My heart's haven surrounds me always"