Working with The Prince of Disks
The Prince of Disks has an unfailing determination to reach his goals, achieve his ambitions and create a world he is comfortable to live in. He has an interesting way of doing this - he takes every task a stage at a time. Whilst keeping the end aim in mind, he diligently attends to the task in hand, completing it satisfactorily and then moving on smoothly to the next logical stage.
This method of working has numerous advantages - there's the satisfaction of completing something - even though you might still be aware that this particular piece of work is just one step in the journey.
Another plus is that work unfolds in a productive stream - each process deriving from the last. This often allows you to pick up on any detail you may have overlooked or missed.
Also there is a consistent sense of progress - a feeling that you are drawing closer to your goals. Every single achievement is composed of many small acts which add together to create the whole.
The Prince of Disks is a fertile and abundant card - it signifies the planting of seeds which will grow into great big trees. The tree would not exist without the seed which was planted in the very first place.
So... on a day ruled by the Prince of Disks, you need to take everything a stage at a time. Decide early on what you're actually hoping to achieve during the day - and make this a reachable goal. Then plot your method of working toward it. Now... off you go!!!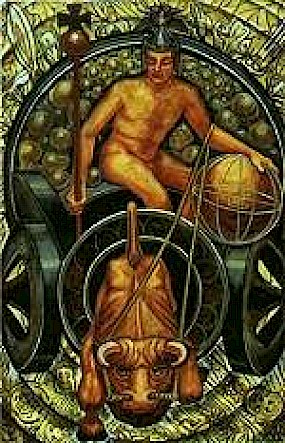 Affirmation: "I now locate my goals and work towards them with great energy."