Working with The Princess of Disks
This card is one with a great deal of hidden strength and power within it, which promises new growth, big changes and new beginnings, accompanied by the inner reserves to make the best of those influences.
A day ruled by this Princess is one on which financial matters will usually work well, and where you may quite possibly receive good news regarding money and wealth. Pay special attention to ideas you have during a day like this, and be prepared to think them through and act on them as soon as the time is right.
Keep firmly in touch with everyday life, but listen for the whispers of intuition which are sparked by part of the Princess's inner power. This is a day to be well-earthed, but to walk with your head among the stars.
The Princess of Disks has a hidden title - the rose of the Palace of Earth. And here we find the deepest spiritual aspects of her influence. The Palace of Earth is the planet, and the rose is connected symbolically to the rosa mundi, the Rose of the World - a symbol of resurrection and eternal life.
Thus this card touches upon the most important issues about being in love with life - its creation, its experience, its excitement and promise of fulfilment. When we are able to enjoy each passing minute of our lives, we put ourselves in touch with the mighty and empowering forces of love which flow through the Cosmos at all times. We become more deeply aware of the creative force of the goddess, and more in touch with our own inner vitality and life force.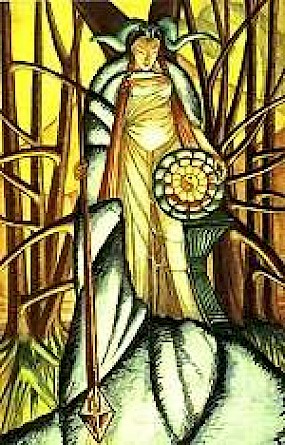 Affirmation: "I now welcome fresh growth and renewal into my life."