Working with The Three of Disks
The Lord of Works is about concentrated effort in a specific area, which yields unexpected fruits as a reward. When we concentrate our energies and direct them skilfully at a single point, or hoped for end result, we create a stream of force to which most things must eventually surrender.
The Three of Disks should be taken as a command to examine all areas of life, until we come across the apparently immovable object - then lean on it with all our might. In so doing, we take advantage of influences beyond ourselves which act as a lever to assist us in our endeavours.
Often, the things which we need to focus on during periods like this will be ones where we feel negative, or thwarted, for we stand a much better chance of making good progress. Look for areas where you feel overwhelmed, overworked or inadequate, and then target them all day! You'll be amazed at what it's possible to achieve.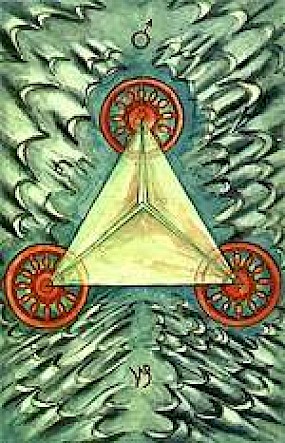 Affirmation: "My Will flows in a perfect stream of force."