Working with The Two of Swords
The Lord of Peace is a card which advises us to climb to the high ground in order to get a perspective, particularly on any emotional difficulties that we might have. Sometimes, a conflict bogs us down so badly in our reactions that we find it difficult to achieve an objective view. Instead we wallow about, knee deep in hurt feelings and negativity, never able to get an overview.
Yet if we can just move our position a little, see the centre of the conflict, often we perceive the whole situation more clearly. And once we manage that, a way through the tangle becomes apparent. When we can see that pathway we know what we need to do, and it's easy to see what's really important and what is rubbish that we collected along the way.
So on a day ruled by the Two of Swords, if there are any issues about which you feel emotionally sore and unhappy, make a deliberate and conscious effort to get to the high ground, above the situation.
If you have no pressing emotional hurts right now, pick a matter that causes you concern more randomly - a long-running confusion, maybe, or something which you wish could have been resolved in the past. Use the same process of climbing above it with the intention of finding another way of looking at it, which is more comfortable for you than the one you now have.
And then stick with it, and enjoy the sense of peacefulness that comes from finding a solution to something that hurts you!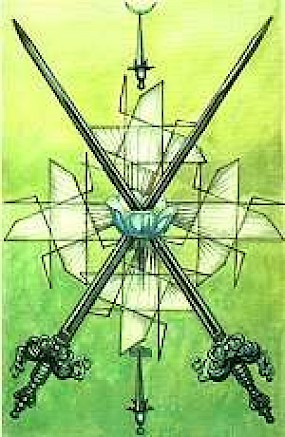 Affirmation: "Conflict resolves into tranquillity"