Working with The Ace of Swords
This Ace brings clarity of vision, freedom from confusion, and clears obstacles and difficulties out of the way. It is a sweeping whirling energy - like a breath of fresh air. It blows away the cobwebs, washes away the red herrings, and generally allows us to see straight through to the core of any situation which requires our attention.
Often when this card has influence, we will find ourselves able to make decisions which have confounded us before, often as a result of receiving new information or being able to remove distractions and mystifications.
Every now and again, the Ace of Swords will come up as the Sword of Justice... the self-same one we see held by the figure on the Adjustment card. When you find yourself in this situation, be very careful about the judgements you make. To be just requires that you are totally balanced, and centred within yourself. This is the only way that you are able to make choices based on the actual issues at hand, without being swayed or influenced by irrelevancies.
On a day ruled by the Ace of Swords, expect to cut to the central core of any situation. Your senses will be acute and analytical. And you will find it easy to shift perspective where necessary. You can get through a lot today!!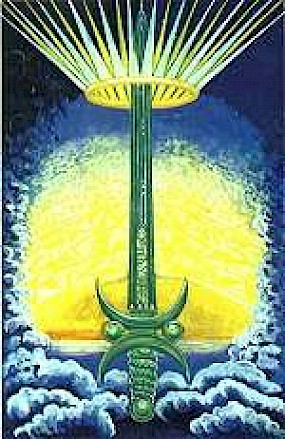 Affirmation: "I see clearly to the far horizon."