Working with The Star
This card is the best one in the entire deck, in my opinion. It marks a point where fortune smiles upon us, lighting up our dreams, hopes and wishes with the promise of fulfilment and manifestation.
The first time I drew this card on the 'Working with...' run it followed the 9 of Cups (the Wish card) and the Princess of Cups (dancer of dreams) and was the 57th card I had written a commentary on. Somehow there was no better time the Star could possibly have come up for the first time...
This card always marks a turning point, where positive energy flows into life in a swift-running stream. All that is left for us to do is to open ourselves to the remarkable powers which are always present when this card appears.
Times like this one make miracles in life. We can attune with the powers of the Universe more easily now than at most other times. We can reach out and touch whatever it is that we call God or Goddess, and welcome their presence and might in our lives.
On a day ruled by this card, dream the best way you know how to... and realise that your dreams stand a greater chance of coming true than at any other time. Wish your wishes... and fill them up with as much hope and light as you can possibly manage.
Then be glad to be alive on a day like this.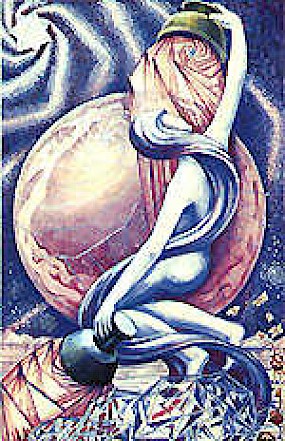 Affirmation: "I can create anything I need."