Working with The Tower
There are many aspects of the Tower that should remind us of the lessons to be learned within the Death card. All life is change - we can either surrender to this, or fight against it. What the Tower teaches us is that the power of life is undeniable. We can learn our lessons the easy way - by being open and accepting; or we can do things the hard way, clinging to things and ideas that no longer work for us. In that case, life will come along and, like a hurricane, batter us with the winds of change till we submit!
So... on a Tower day, we need to examine ourselves to identify the things to which we are clinging that no longer serve us well. We need to be alert to the concepts life itself presents us with. So this day could be one in which people talk relevantly to you, without knowing that they are doing that. Listen carefully for random symbols which will point you in the right direction.
When the Tower rules, it is possible that unexpected events will take place that you hadn't seen coming. If so, remember that to resist change is to deny life, and bear in mind that life is eventually going to win this battle anyhow - so lie back, relax and accept. And keep your sense of humour close at hand!
Sometimes we will be asked to take a blind leap of faith under the influence of the Tower - remember this card signals breakthrough and extension - growth from experience, and self trust. Whenever you are unsure about your abilities to deal with things, remind yourself what you have already passed through in your life. There's a river of knowledge flowing through you already.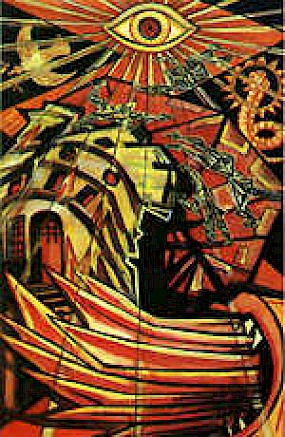 Affirmation: "I trust to myself and to life."