Working with The Moon
The Moon often comes up to indicate deception, or deceit. And on a day ruled by this card, we need to be alert for this kind of problem coming up around us. On this day, we are best served by testing everything against our own inner senses, and attempting to discover how we feel at a deep intuitive level about what happens.
You'll find that your intuition is probably somewhat heightened, because another of the Moon's influences touches on psychism, internal development and ease of inner communication.
There's another thing you need to keep your eyes open for, with this card - not only does it indicate out-and-out deceit, but it also shows us where there is illusion or uncertainty. In moonlight, you notice that things look very different indeed than they do in daylight. The Moon has a habit of casting things and experiences in a different light. Things are not quite how they seem.
So always look carefully at issues that have particular relevance when this card is about. Many people tend to see the Moon as a bad card - I do not necessarily feel this is true. This card shows things up that are not what they claim to be. But it also reveals treasures inside of rather grubby packaging!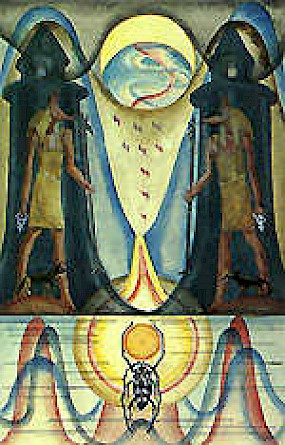 Affirmation: "My inner sense is firm and true."