Introduction to Colour Harmonics - The Art of Healing with Colour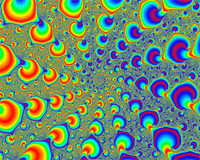 OK I've been threatening you with this for a while now, the colour information is about to arrive. Let me tell you a little about the history of this material. The Colour Harmonics Foundation trained colour analysts and therapists throughout the 90's. The Foundation was closed down in the late 90's but the training material remained, gathering dust on my hard drive.
Then a few months before the time of writing this (November 2005) I suddenly decided I wanted to put the whole body of material out on the web for those people who find colour as fascinating as I do.
I do not now train analysts and therapists any more. Angel Paths and the Healing Team have taken up the space that the CHF once fitted into. But that does not mean that this material might not be infinitely valuable to those of you who take the time to study it. I know the use of colour and an understanding of its effects has immeasurably enriched my life experience. If it can do the same for you so much the better.
Jan - 2005