Working with The Nine of Swords
The Lord of Cruelty highlights dark influences in our lives - within or beyond us - that will do us no good at all. Here we see the smallest emotions of our race at work, creating damage and harm.
Whenever it appears, it warns us that somewhere nearby there is danger lurking, waiting to cause disruption and sorrow. So we need to act very fast and decisively in order to nip trouble in the bud.
Often, this card will be a comment on your own treatment of yourself - if you denigrate yourself and beat yourself up, you are facing the worst enemy of your entire life - you know your every weak spot, your every Achilles heel. You know just exactly what hurts you most, you have no defence against yourself, and you cannot walk away.
So, when this card assumes importance in your life, you must examine yourself first and foremost. Are you treating yourself badly? Are you giving yourself a hard time? Are you chipping away at yourself relentlessly? If you discover you are, it's time to stop. Hurting yourself about things within that you feel unhappy about is as pointless as trying to carry water in a leaky bucket...you cannot adjust what you see to be wrong, because you are too busy standing in judgement upon yourself to gain any form of perspective or objectivity. And without these two useful analytical tools, you won't understand what you need to do to feel better, neither will you have the motivation or self-love to follow through. So..treat yourself with respect and tenderness whilst attempting to change what you do not like. Give yourself plenty of encouragement and praise for each small step you make. Don't be cruel.
If you feel convinced that you are in balance with yourself, next examine what you're doing to others. Remember something... there is never an excuse for cruelty. No matter what situation you find yourself in, there is always a better way to deal with a situation than to exert mindless cruelty which will damage you, in the long term, much more than the person you aim it at.
Finally, consider the possibility that somebody in your environment is aiming cruel thoughts or deeds in your direction. Be on your guard so that you are not taken unawares... Every now and again this card comes up as a firm warning of danger...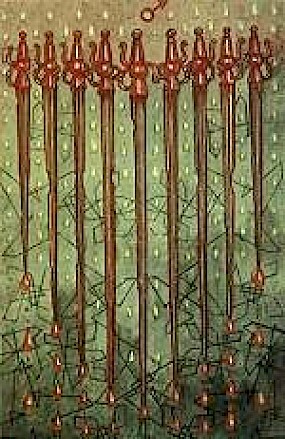 Affirmation: "Love dissolves cruelty and fills the world with beauty."