Working with The Queen of Cups
This Queen rules the realms of love and beauty - both mundane and spiritual. She indicates the inner reflective quality which allows us to relate to the imaginal and dreaming qualities each of us has - though all too often rarely uses.
So on a day which is ruled by her, it is to these areas we must turn. This is a time to reflect about love, and to seek out beauty. But since this card is an inward looking one, in many respects, we need to look at ourselves more than we look outside.
Seek out the lovely, loving things in you. Search for your own beauty. Try to identify the things in yourself that you are glad to have as a part of you. Find things about yourself which are beautiful.
One important aspect of the Queen of Cups is her ability to let us reach inside and see things from a different perspective. She gives us permission to be in love with and satisfied by ourselves.
And when we do feel like this about ourselves, we shine a little brighter in the rest of the world. So everybody wins!!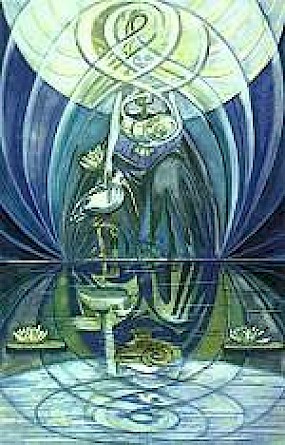 Affirmation: "I am a radiant loveable being."