Working with The Seven of Wands
The Lord of Valour reminds us to take stock of our inner reserves of courage and strength. It will often come up to mark times where great change is in the air, where momentous decisions need to be made, and where we must grasp the moment.
On a day ruled by the Seven of Wands, the most important thing is to be alert for opportunities and great chances. Often these come up completely out of the blue, and must be seized without hesitation. This card often marks those apparently coincidental occurrences which begin a chain of events that leads us into a decisive and fulfilling life change. So pay special attention to everything that happens today.
And at the same time, keep a running check on your own feelings. If today is the day upon which your dearest dream comes true, how will you feel? Are you ready to let change run in your life? Are you prepared to take risks? And do you feel that today, you trust yourself?
If you encounter resistance of any sort on a day ruled by the Lord of Valour, remember that this card is about being true to yourself, following the voice of your own heart, and protecting your needs and hopes.
This is a day in which you need to believe in yourself. So hold hard against anything which interferes with that. Refuse to allow anything (or anybody) to undermine you. And keep in touch with what you believe to be true. And if you do all those things, today could bring miracles into your life!!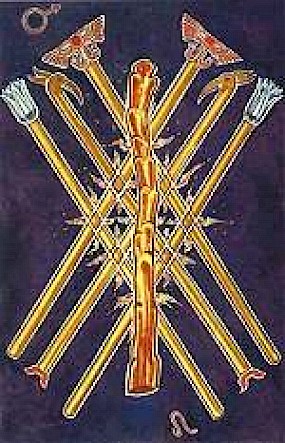 Affirmation: "I welcome life and embrace opportunity."