The Mirror Spread
This spread works primarily on existing relationships, but can assess anything from a budding love affair to an established partnership.
It will often reveal inconsistencies between viewpoints - for example if the cards at 2 and 3 contradict one another, there is a need to re-assess and re-adjust points of view, or take into account the input of the other person.
Obstacles will sometimes produce very positive cards - look carefully under the surface if you find this, rather than assuming everything is fine!
The probable result card is drawn with circumstances as they currently are - but if changes recommended by the reading are effected, then this final card can change.
Here is the spread: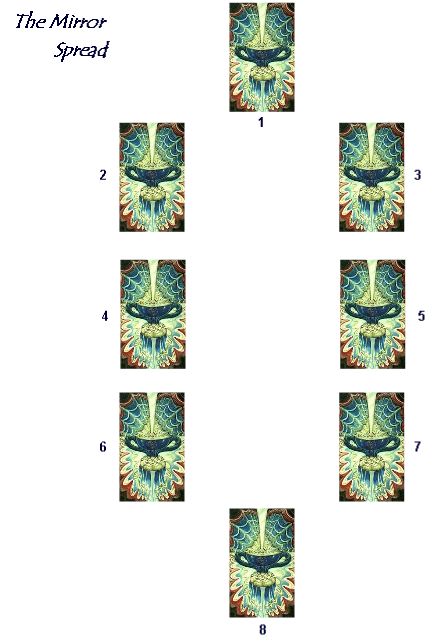 Card 1: The querent.
Card 2: The way you see the other person in the relationship.
Card 3: The way they see themselves.
Card 4: What the person represents to you.
Card 5: What you represent to them.
Card 6: Obstacles within the relationship.
Card 7: Strengths within the relationship.
Card 8: Probable result.