Working with The Prince of Swords
On a day ruled by the Prince of Swords it will be our inner world we need to direct our attention towards. We need to study our thoughts, and allow them the time to extend. Too often a thought crosses our mind and we are unable to give that thought the room to grow and develop until it achieves its maximum potential - and because this happens very often we fail to live up to ourselves too.
So try to set time aside for quiet inner contemplation when the Prince of Swords is having an influence. Think about your own opinions on given topics, not necessarily personal ones... but more general issues as well. You know, often we fail to converse with ourselves even to the extent that we converse with our acquaintances. We take for granted what we think and what we know, even though our opinions may not have been revised in years.
As constantly growing individuals, our opinions certainly will change on some subjects... and if we don't give ourselves the time to check them out every now and again, we can become alienated from our own development. This can lead to all kinds of problems - see the Eight, Nine and Ten of Swords for examples of this.
Ask yourself questions like... what's your favourite food? When did you last eat it? Which was your happiest holiday so far? Why? What's your current favourite garment in your wardrobe? Why? What happy memories do you have of the last week? What's the best thing that happened this year so far?
In having this conversation with yourself, you will almost certainly come across things that you had not placed much importance on before... and these things will have slid into your subconscious mind... from where they could later surface unexpectedly.
Get to know yourself, and then stay in close contact... you're the very best friend you could ever have - make friends with yourself!!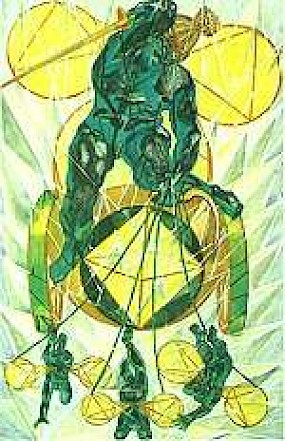 Affirmation: "I look within, and grow to understand myself."