Working with The Aeon
The Aeon is another of those cards which indicate that we have reached a turning point - from this moment forward everything changes. There will often be big decisions to be made (which will later be executed with the Universe, the Arcanum which naturally follows this one). Sometimes we'll find ourselves weary after struggling through a tough patch, but at the same time, now we see light at the end of the tunnel.
When we make life-changing decisions, we will often spend quite a long time thinking before we make up our minds. And during that period, we often berate ourselves for our indecisiveness and uncertainty.
When we do that, we are missing something so simple, and yet vitally important - that every decision we take has its moment. And if we are not sure now, perhaps that's because we have not yet reached this particular decision's moment in time. There will come a moment, if we are true to ourselves, when we know exactly what we need to do. And when that moment comes there will be no further prevarication, no doubt, no fear.
This is because time itself has enormous power. To find the right time for anything is a really useful life skill. When a choice comes to its own moment, it becomes empowered by its own momentum, and at that moment we can move forward with confidence. Sometimes, then, just of itself, this card will bring about changes on the day that it rules.
The Aeon is also about directing our lives in accordance with what we have already learned. So when this card rules the day, try examining your wealth of experience - in any area you choose to. Look at what you know, what you understand, what you need and how far you've already come. And give yourself a great big pat on the back! You already have a treasure house!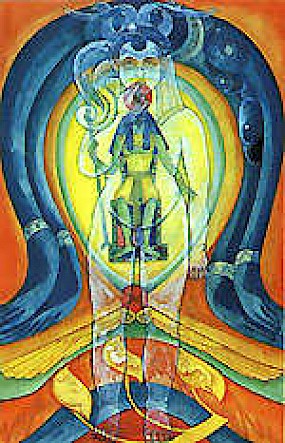 Affirmation: "I trust myself in this moment"