Working with The Lovers
This is a lovely card, concerned with the harmonisation of opposites at all levels of being. At the highest level, the Lovers represents the marriage of the Emperor and the Empress - the archetypal union of male and female.
Of course, one of the areas that this card therefore covers is that of emotional relationships. We've discussed often how, for love to grow and create change, it must be allowed to flow unhindered and free. If this is stopped, then love, like the water used symbolically to represent it so often, becomes stagnant and fetid.
So, on a day ruled by the Lovers, consider your partner, if you have one. Have you expressed to them everything you need to say? Have you offered them emotional honesty and genuine access to the feelings you have for them? If not, then today - try it!!
If you are in a period where you do not have a partner, see yourself as your own partner. This is more true than you might at first think! Our relationships with others are often reflections of our own inner struggles to realise and fulfil our needs.
Ask yourself the same questions - have you been emotionally honest with yourself? Have you achieved genuine access to positive feelings about yourself? If not, then open up those doors and let yourself really see who you are. You might just get a pleasant surprise. And after all - if you don't like it at all, you can always move on tomorrow!!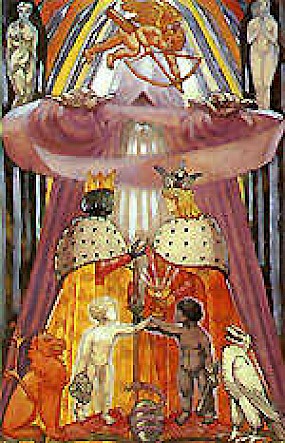 Affirmation: "I love and accept myself."