Working with The Fool
The Fool is a joyous and exciting card - combining both perfect trust and self reliance.
As the very first card in the Tarot deck, it marks the moment upon which we embark on a new phase in our spiritual journey.
When we explore new terrain, we are bound sometimes to encounter danger or challenge. The Fool's energy gives us the power and self-confidence to move through challenges with an open heart, to recognise friends and to gather experiences to us as the true treasures that they are.
Innocence is a devalued quality these days. We forget that to approach life with eyes that are new each morning reveals to us more of life's mystery than anything else. We cannot substitute the sheer growth permitted by trust and innocence with cynicism nor prior knowledge.
So, on a day ruled by the Fool, we need to lift our hearts upwards and open them to the richness and beauty of life. We need to regard ourselves as travelling through a land of wonderment and joy. We need to encourage excitement and exhilaration, and to look constantly for that which is new and bright and hopeful in every step we take.
We also need to trust to the life process, and to remember that, by and large, the gods have no need of our suffering, and every need of our joy, laughter and celebration.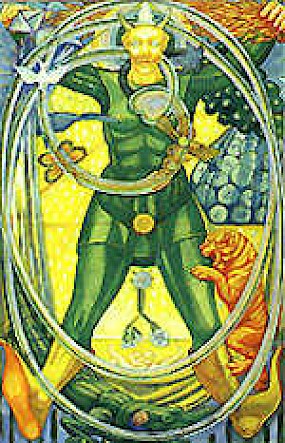 Affirmation: "I tread the path of life with joy in my heart and a smile on my lips."