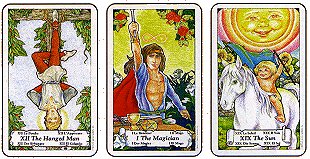 This will be a well-known deck for those of you who are familiar with tarot cards. It's a traditional structure deck with King, Queen, Knight and Page on each of the Suits, and it sticks closely to the symbolic format first created with the Rider Waite Deck, using closely allied symbolism and structure. However, the illustrations are much more detailed on this deck and the cards themselves contain a helpful and pretty use of colour.
Almost all of the cards have flowers or vegetation included in the images, and the illustrations are evocative and thought-provoking. I particularly like the Rods in this deck - these are all flowering staffs where the blossoms are generally closed with the notable exception of the Ace, where exotic flowers bloom against a sun-streaked sky in front of a fairy tale castle. One criticism I would make of the illustrations (and this a somewhat endearing one) is that several of the male figures seem to have lost their necks!
The instruction book is reasonably comprehensive. On Majors you get a fairly thorough description of the concept of the card and the symbolism in the image plus a divinatory meaning (keywords) and reversed meaning. The Minor Arcana follows the same format though there is less information. The only spread included is the Celtic Cross.
All in all, an extremely good beginner's deck.
Review by Jan