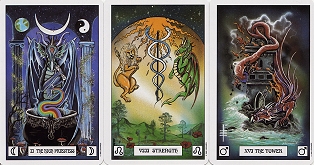 I have enjoyed the artistic work of Peter Pracownik for several years and was very glad when I heard that he had turned his talent to the creation of a deck. However, I have to say I wish he had not restricted his artistry to dragons only since the theme dominates the deck and tends to shroud some of the symbolism of the cards.
This is definitely in my opinion an advanced user's deck - you need to know the meanings of the cards independent of the symbolism you see, since in many cases you would not easily be able to intuit definitions from the images. That said, this is a stunningly illustrated deck with many strong and eye-catching images. If you like dragons as well as read Tarot this one is probably a must for you.
One of my favourite cards here is Major Arcana Strength - where a lion and a dragon flank a caduceus floating in the air above a verdant valley scattered with poppies. Courts follow the traditional King, Queen, Knight, Page outline. The booklet is fairly adequate in its description of the Major Arcana - symbolism is clearly described and explained. The Minor Arcana has keywords, definitions only and the only spread included is that of the Celtic Cross.
All in all, this is a beautiful work of art and many of the images stand alone as outstanding paintings. However, for me personally, this one does not quite do it as a working deck. I look forward to seeing Pracownik's more traditional interpretation of tarot symbolism.
Review by Jan