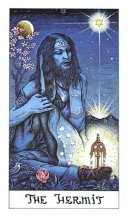 Losche's understanding of the inner secrets of the Tarot is very clear. For instance oo the 5 of Swords we see a man pinned to a barren desert floor. He lies upon a pentagram, limbs extended into the four lower points. Around him are 5 swords, driven into the ground. This reminds us of the dangers of losing touch with our spiritual beliefs, and becoming immersed in the mundane world... when you look very closely, you realise that each sword point enters a lotus or lily... both symbols of spiritual peace.
One thing that makes me curious is the fact that, even though the designer uses Princes and Princesses, he chooses to have the major male in each suit remain a King. He also retains Judgement in favour of the Aeon, and the World in favour of the Universe.
He also obviously has quite a sense of humour... most of the cards have people on them.and many of those people are likenesses of Hollywood film stars ;-) We had hours of fun trying to put names to the faces when we first saw this deck. Mind you, I have to say, the logic of the allocation of various stars seems symbolic of itself - Sean Connery plays the King of Wands for instance.
The little guidebook supplied with the deck suffers from the usual problems of cramming a lot of info into a small format booklet, but does feature the designer's own impression of each card, which is helpful, as well as keywords indicating the meaning of each card. There are seven sample spreads, one of which is a 7-carder I haven't seen before.
Definitions - whilst small - are helpful, and the keywords cover a fairly broad range of meanings. There's also a really encouraging note at the back of the guidebook which suggests that you take an overall look at a spread before turning to look up the cards you have drawn.
I feel that this is an accessible and attractive deck, and I love the chuckles that come when you finally realise which card shows Errol Flynn!!
Review by Jan