This is a complicated, though breathtaking, deck design. It will probably suit the more astrologically minded among us, and those with a good working understanding of Greek mythology.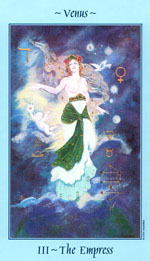 Each Major Arcana card is given either a planetary or zodiacal attribution. Each suit is assigned to its traditional Element, and each pip also has a mythological figure or a constellation associated with it. The images are generally dictated by sections of the myth in question – for example, the 9 of Swords is associated with Canis Minor, and the image shows us a dog glancing back over his shoulder. Superimposed upon him is the shape of the constellation named for him, and the astrological symbol of Gemini to indicate separation.
The Court cards use the modern form, with each of the Princesses being associated with a season, and the other three Courts linked to astrological qualities. The Prince is mutable, the Queen is fixed and the King is cardinal.
The artist who created this deck is Kay Steventon, who brought us the fantastic Spiral Tarot, working in collaboration with Brian Clark. They have gone on to produce an oracular deck called Goddesses and Heroines.
The images in this deck are evocative and almost ethereal. The complexity of symbol incorporated into each card is astonishing, with occult glyphs from the Hebrew alphabet, the Quabbalah and other sources all adding insight into the mind of the artist.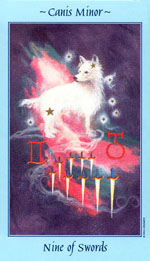 The little booklet which accompanies the deck explains extensively about each of the legends which were incorporated into the design of the cards. Though some of the given interpretations are somewhat unusual I found them complementary to my existing knowledge – expanding my view of specific cards.
Nine of SwordsFor example, the 4 of Pentacles is described thus "With the 4 of Pentacles, Taurus initiates the individual into the awareness of the boundary separating Earth's sacred and secular spheres by recognising the distinction between inner values and outer possessions. When this card appears the individual needs to reflect on his or her relationship with the material realm". Whilst not exactly a classic interpretation, it is one which builds a new dimension of understanding.
This is most definitely not a beginner's deck. But for a more experienced user of Tarot I would suggest that, both as a meditation tool and a working deck, it could definitely have a lot to offer. The accompanying booklet is very well written and extensive.
If you liked the Spiral Tarot, you'll love this one, especially if you have an interest in astrology and Greek myth.
Publisher: US Games
Review by Jan