Conceived by Gunter Hagar, and drawn under his direction, by cartoon-artist Hansrudi Wascher, this is a deck with a very faithful following. The almost cartoon like illustration is something you either love or hate I think – but the complexity of detail and little hidden touches are absolutely fascinating.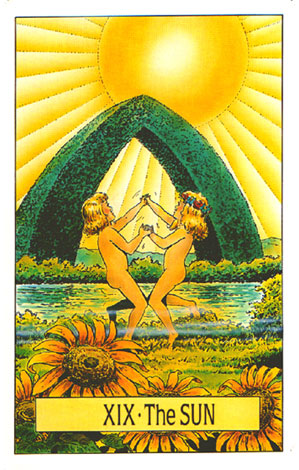 The deck follows the standard Rider-Waite format, but the cards advance the initial ideas presented there into new realms. Almost every card has, in the fine detail a couple of secrets revealed… note the spear and shield beside the Hanged Man, implying perhaps a hidden warrior aspect about the Man which might lead us to consider that he is hung from the tree by choice. Then there's the victory arch on the Sun card, which also appears on the Magician.
Each of the minors is very clearly defined by the use of elemental colours, and the illustrations on these pip cards are evocative, and well-thought out, giving more than a few clues to possible interpretations of each card.
The name "Arcus Arcanum" can be loosely translated to mean "Mysterious Bow" or "Bow of Secrets" and comparing this deck to the string which joins each end of the bow, here the bow being the subconscious and conscious minds – allowing the reader to make deep symbolic connections via the medium of the cards.
The accompanying booklet is actually quite comprehensive, and brings to the fore some of the thoughts behind the symbols used. An interesting interpretive method is offered for the Majors where the symbology is discussed first, followed by section A which presents psychological and emotional factors to be considered, and the second section B, suggests events and situations which could arise because the card is present.
The reference section on the Minors is done by number, with an overview describing the suits themselves. This section does suffer from the eternal 'little booklet' scarcity of information, but it is still a lot more comprehensive that some I have seen – most notably the Lo Scarabeo booklets. Spreads include the Tau Cross spread (one which I always have liked a lot) and another much more obscure offering whose instructions had my mind dancing a foxtrot trying to understand them – this complicated by a total lack of accompanying diagram.
I think the Arcus Arcanum deck could certainly be used by a beginner. What I find interesting, though, if the fact that as the reader's ability begins to advance, these cards will continue to release snippets, hints and secrets as one's knowledge begins to expand. Maybe that is why so many people who start out using this deck never move on to something else, eh?
Review by Jan